Real Estate News from Around the Country
Enjoy and share this resource for real estate news gathered from around the country. PLEASE NOTE: Links will open a new window or tab, depending upon your settings.
JUNE 2013
MAY 2013
Rise in Home Prices Sets Seven-Year Record in March
By Thomson Reuters, NBC - Tuesday, May 28, 2013
"U.S. single-family home prices rose in March, racking up their best annual gain in nearly seven years in a further sign that the strengthening housing recovery is providing a source of support for the economy, a closely watched survey showed on Tuesday... "
Wells, Citi Halt Most Foreclosure Sales as OCC Ratchets Up Scrutiny
By Jeff Horwitz and Kate Berry, New York Times - Friday, May 17, 2013
"Wells Fargo (WFC) and Citigroup (NYSE:C) have halted the vast majority of their foreclosure sales in multiple states following the release of new guidance by the Office of the Comptroller of the Currency... "
APRIL 2013
MARCH 2013
FEBRUARY 2013
JANUARY 2013
Like Us, Follow Us, Have Fun with Us!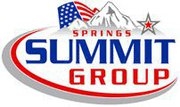 Powered by Keller Williams Partners Realty
1307 Aeroplaza Drive
Colorado Springs, Colorado 80916
summitrealestategroup.com
719-651-0085